Rafting on the Tara and Drina rivers provides an unforgettable experience for adventurers, but above all, you need to have adequate equipment that will protect you and enable safe and comfortable navigation through rapids and currents. High-quality rafts and paddles will ensure stability and safety during the ride, and there are other rafting equipment items that participants wear and carry. All of this together makes us feel safer on the water and allows us to fully enjoy the thrilling ride down the rapids.
What equipment parts do you receive from us for the rafting tour and what are they used for? We have explained in this short guide to rafting equipment.
Before going rafting
You may wonder what needs to be obtained and brought in advance. All the necessary rafting equipment for the Tara and Drina rivers will be provided by us for your use or available for rent at our camp. All you need to bring from home is a swimsuit to wear under the wetsuit that you will receive from us.
After having breakfast, guests make their way to the equipment area where our guides or skippers await them. They provide them with the appropriate equipment and give a brief training on how to properly wear and use it. After that, guests change into their gear in bungalows or cabins and are ready to depart for the starting point of the rafting adventure. Our vehicles transport them there, and the adventure can begin.
Safety vest
The safety vest is the most important part of rafting equipment as it guarantees buoyancy and protection in case of entering the water. Our vests are custom-made and not only comply with regulations and weight capacity standards but surpass them. The design of the safety vests is crafted to provide maximum functionality and ease of staying afloat, allowing easy extraction from the water. They are made from the finest material - CORDURA.
Helmet
The helmet for rafting is also an essential part of the equipment and serves to protect the head from impacts in case of entering the water. The helmets are made of flexible high-resistance plastic and filled with comfortable padding that can be water-absorbent.
Neoprene wetsuit
The rafting suit is issued before the start of the descent and returned after the descent is completed. It should be emphasized that the neoprene clothing and footwear are washed and disinfected after each use.
Neoprene suits are essential for protection against cold water and also provide impact protection. They are made of the highest quality material from the Hiko brand. We offer models with full-length legs, sleeveless designs, and suits for both adults and children. While not mandatory, we recommend wearing them. Neoprene suits are made of a special material that will protect you from cold water. Although they don't prevent water from entering, they will retain a small amount of water that will be heated by your body's warmth, creating an insulating layer that protects you from the cold water of the Tara River.
Additionally, you will also receive neoprene footwear to protect your feet from the cold. Like neoprene suits, the footwear is made of neoprene and provides additional insulation from the cold waters of the Tara River. Therefore, we advise wearing neoprene footwear for your comfort and protection. Neoprene footwear with a thermal break is used for cold protection, while more robust footwear is used for canyoning.
Anorak or a windbreaker is recommended for protection against cold or rain, especially during the spring and autumn seasons.
Rafts and paddles
The raft and paddles are key elements for an exciting rafting experience. When you step into the raft and take hold of the paddles, you will feel the power and control over your movement on the river. Our high-quality rafts and paddles allow you to enjoy the rapids with peace of mind, ensuring maximum safety and stability. Their durability and reliability are crucial for avoiding accidents on the water. Whether you are an experienced rafter or a beginner, the quality rafts and paddles will provide you with an unforgettable rafting experience and allow you to fully immerse yourself in the adrenaline-filled ride down the rapids.
Waterproof bag
A waterproof bag is an essential part of the equipment on every rafting boat. It is designed to protect your personal belongings from getting wet, keeping them dry during the ride down the rapids. Regardless of how wet and turbulent the rafting experience may be, you can be confident that your items will remain dry in the waterproof bag. However, while this waterproof bag is highly functional, it is important to note that it is not recommended to store expensive or valuable items in it. Since rafting is an adventurous activity where you can be exposed to water, impacts, and other extreme conditions, it is best not to bring valuable items with you on the descent. This way, you will ensure that your belongings remain untouched and preserved during the thrilling rafting experience.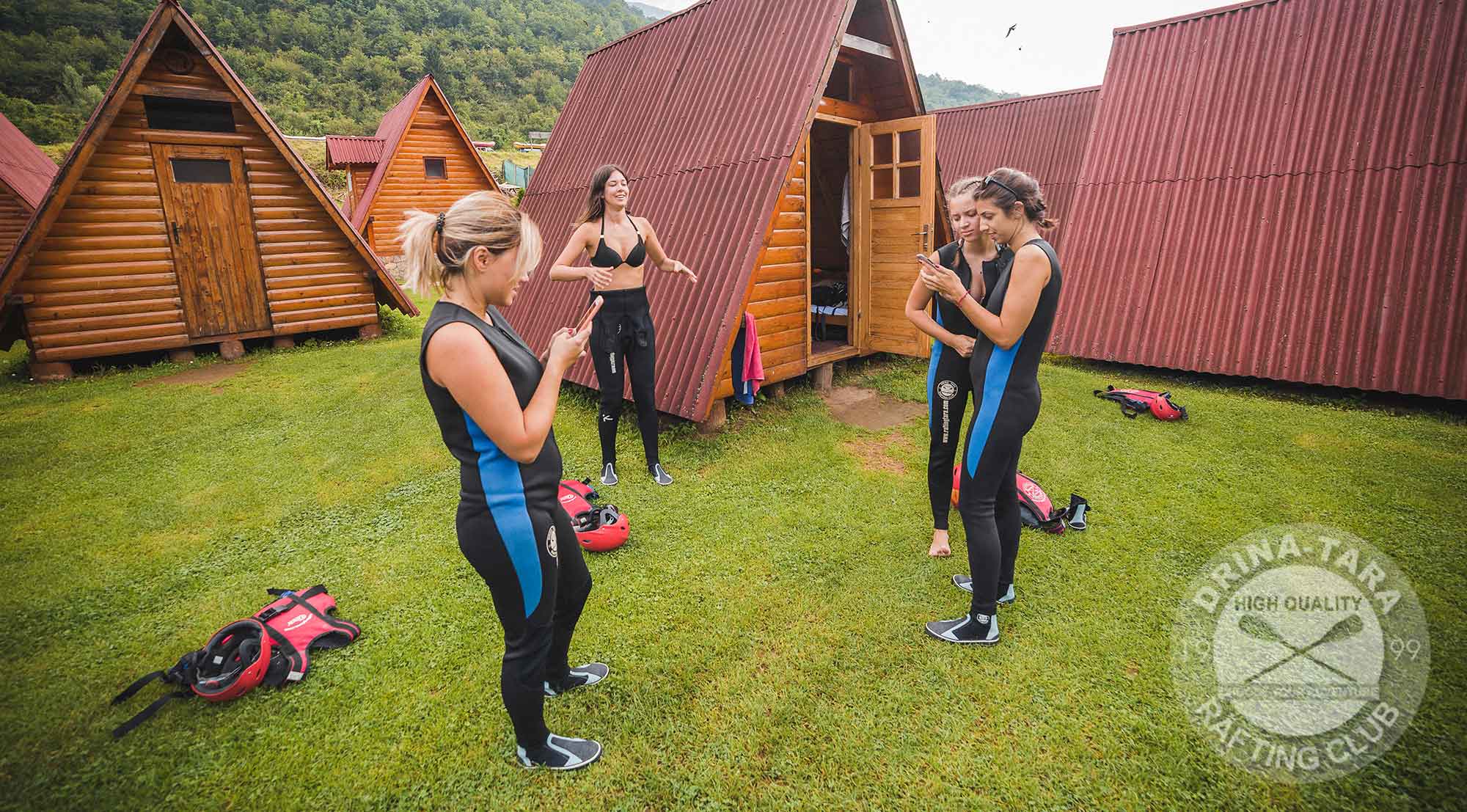 High-quality, clean, and reliable equipment according to EU standards
For canyoning, in addition to the rafting equipment, you will also receive climbing harnesses and neoprene jackets. The footwear for this activity is more durable as it involves more walking.
All the equipment we rent is made according to EU standards, guaranteeing your safety and comfort during the rafting adventure. In addition, all our equipment is regularly maintained and cleaned after each use. Rafting Center Drina Tara ensures that all the equipment is washed and disinfected after every use.
Safety equipment for rafting is extremely important as it protects us from potential injuries that can occur during the ride down the rapids. When embarking on this adventure, we are exposed to risks of impact with rocks and falls into the water. Therefore, it is necessary to wear appropriate safety equipment that will protect us from these dangers and to listen to the advice of the guide.
It should also be emphasized that there is no minimum number of participants for rafting, as we strive to make our tours as flexible as possible. Enjoy rafting on the Tara and Drina rivers, and we will ensure that you are safe, well-prepared, and equipped with all the necessary gear for an unforgettable experience. Check out our current offers for this season and book your spot in advance!