This autumn we have started working in our camp to greet a new season in even better shape for our dear guests. This year WE HAVE DECIDED TO MAKE A BIG MOVE - THE CONSTRUCTION OF A COMPLETELY NEW RESTAURANT/TERRACE, while the old restaurant already completely demolished.
THE NEW RESTAURANT/TERRACE WILL HAVE AROUND 700 SQUARE METERS OF USABLE SPACE ON 3 LEVELS, AND IT WILL BE BUILT 2-3 METERS LOWER, CLOSER TO THE RIVER, SO THAT THE ATMOSPHERE FOR OUR GUESTS NEXT SEASON IS EVEN BETTER.
Another news is that within the restaurant/terrace we will now have a completely separate 100 square meters - room, which will be soundproof, and used for presentations and closed meetings during team buildings.
We will also have a new space of about 100 square meters, below the ground level, where the parties can continue until late into the night, but none of our guests in the bungalows will be bothered by the music from the party.
In addition to the construction of a restaurant/terrace, which we are building from solid wood, with huge boulders in natural mountain style, we have begun working on the river bank. At the very shore, a wide walkway has been built, we have also built a mole, which will serve as a dock but also to create a natural swimming pool in the Drina, so our beach from the next season 2018 will be in full swing! :)
Furthermore, we are building 15 more lux bungalows, so next year we will have had more than 40 lux bungalows with bathrooms inside, built of solid wood and natural stone which provide a comfortable stay in harmony with nature. Therefore we remain the Rafting center with the best accommodation and the largest capacity not only in the Balkans, but also much further.
In addition to all of the above, we have refreshed our fleet with a few 8-seat 4x4 vehicles, for transport to rafting as well as another toyota HZJ 75 bushtaxi.
What we insist on is that our guests always get the top rafting equipment, so we have ordered 4 more rafting boats and 100 sets of neoprene equipment, so now we have over 500 sets of top rafting equipment, which guarantees that absolutely every guest will always get the premium equipment, the right size, etc.
ALTHOUGH WE ARE STILL QUITE FAR FROM THE NEW RAFTING SEASON IN 2018, WE ARE DOING A LOT AND PREPARING AS WE WANT TO MAKE YOUR RAFTING WITH US AN UNFORGETTABLE EXPERIENCE AND THE BEST ACTIVE VACATION IN NATURE, A UNIQUE STAY WITH NEW CONTENTS AND EVEN BETTER SERVICE . YOU ALREADY KNOW THAT WHAT WE HAVE JUST REVEALED IS ONLY A PART OF WHAT WE ARE PREPARING FOR YOU, AND THAT NEXT YEAR WE WILL MAKE CUISINE, HYGIENE, COMFORT AND, OF COURSE, THE DOMESTIC ATMOSPHERE PRIORITIES IN OUR CAMP!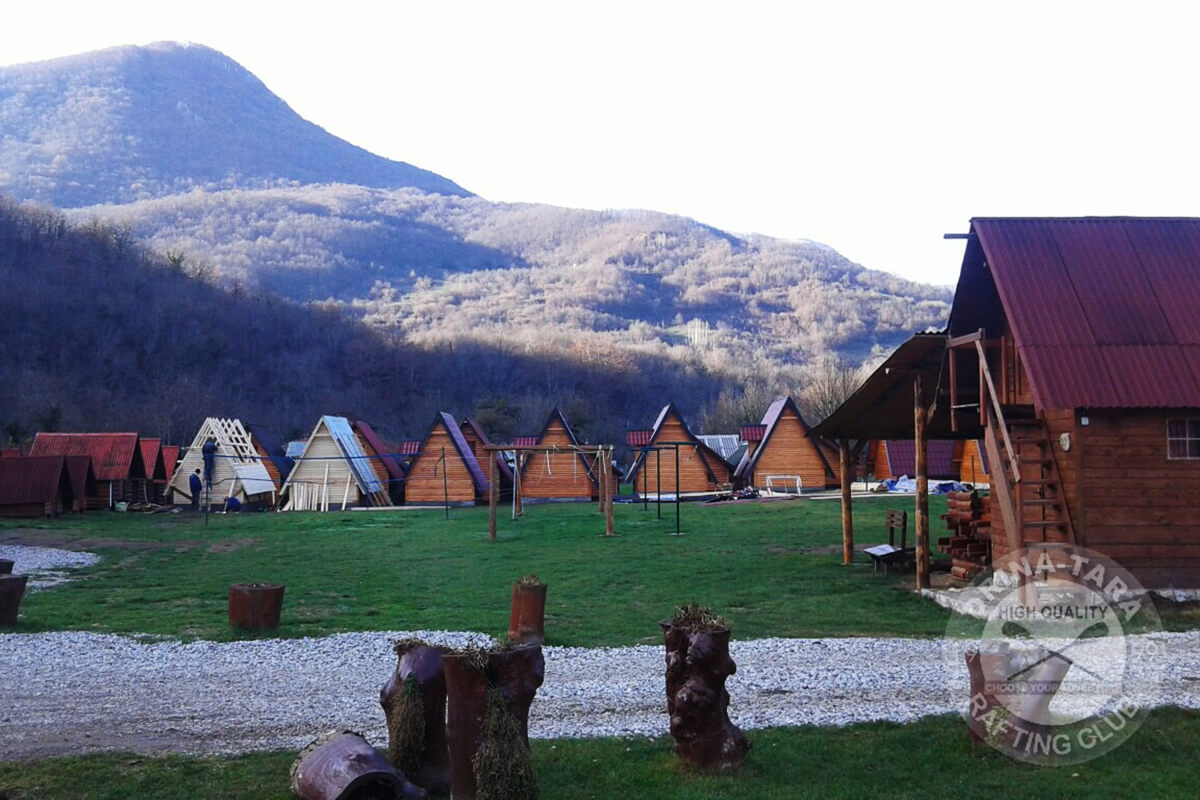 Winter is coming, but the weather will not stop us in our works! Follow our channels on social networks and in this way also see our works and preparations for the upcoming season!